FT 200A Automatic Cut-off Machine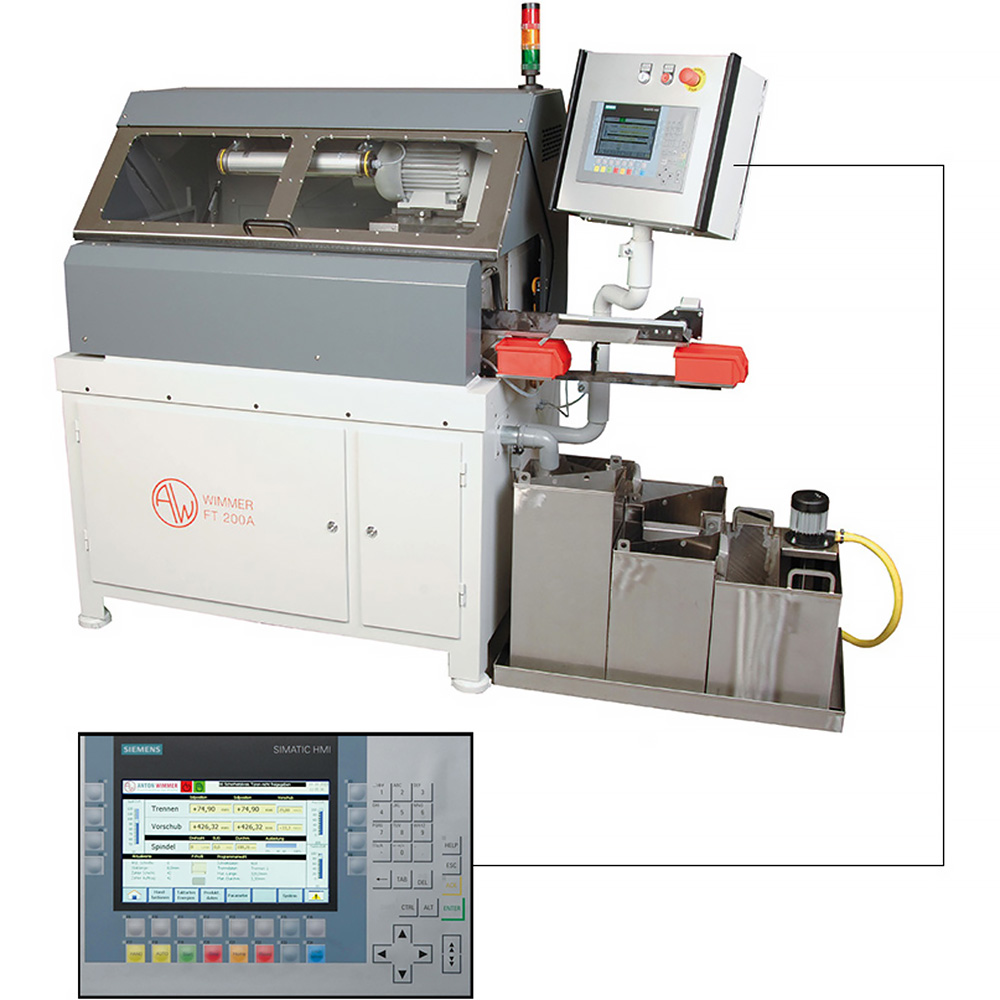 HIGHLIGHTS
Compact and fully automated cut-off machine
With an easily programmable CN
Easy operation thanks to very fast set-ups
Sensors for the grinding disc, the clamping and the coolant
Automated loading for a long production autonomy
Automated central greasing for all parts in movement
Working space fully hooded and secured
Useful for
Cutting tool manufacturers and grinding services
Tool and die as well as machine tool industries
Material analysis
Quality control
Medical industry
Compounds
Ceramics, glass and  many others
The modern Siemens CN of the machine can be programmed with up to 5 different rod lengths for each rod, with different quantities for each length, to use the blank to the maximum. A choice of  5 grinding profiles for the various types of rods allow you to optimise the grinding cycles and reduce the risk of breakage of  the grinding disc.
The Siemens CN is very user-friendly and has a graphical assistance as well as a help menu. The commands are transmitted via servo-drives, and also thanks to precision guides and high-precision ball screws an accurate positioning is achieved. The 3 kW drive can be equipped with a stepless frequency variator. The grinding spindle gives a very regular feed of the grinding disc.
The machine is loaded with an inclined loader that can hold more than 100 rods depending on their diameter, or a belt loader. For big series in the automatic cycle (ghost shift) the machine can be installed with a vibration loader together with a device for separating the rods.
The grinding disc is laser measured and its wear is automatically compensated. The machine stops at the minimum diamond  layer of the grinding disc. The double clamping system (on both sides of the grinding disc) prevents chipping of the rod. This system is sensor-monitored to prevent breaking of the rod or the grinding disc. Optionally, we can equip the machine with different loaders for various applications and for long bars (up to 6000 mm)
The machine can run either with cutting oil or water-based coolant. The coolant is monitored by valves and its debit is controlled. The disc feed is stopped immediately if the coolant supply is interrupted. A strong coolant jet results in a very good surface condition and a high precision of the cut-off road and increases the life of the grinding disc.
special models
For more information, please click on the respective picture.
Cut-off range
Ø 3 - 40mm (optional from Ø 1mm)
X-axis stroke
420mm (extensible to 530mm)
Grinding wheel
Ø 200 mm
Grinding motor
4,0 kW
Power supply
400V DS-50Hz
Colour
Light grey RAL 7035,
basalt grey RAL 7012
Weight

about 750 kg
Dimensions L x W x H
about 1.450 x 950 x 1.700 mm
Here comes a Footerstring