KT 150 Compact and Mobile Cut-off Machine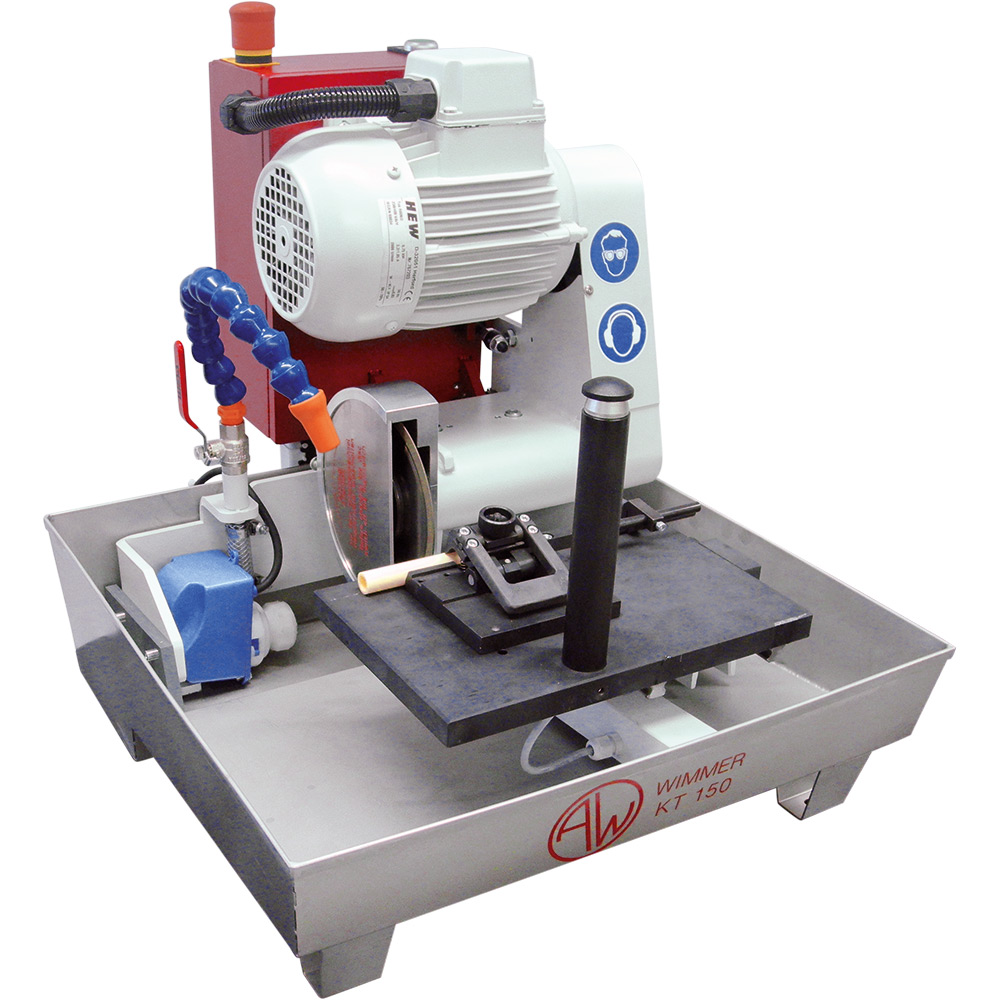 HIGHLIGHTS
Shorter cutting cycles for all hard materials, flats up to 40 mm, cylindrical parts up to Ø 18 mm  (25 mm)
Very high precision and excellent surface conditions
No finishing operations like deburring, grinding etc. are necessary
Powerful jet cooling
Mobile use with an aluminum profile table available as an option
Useful for
Cutting tool manufacturers and grinding services
Tool and die as well as machine tool industries
Material analysis
Quality control
Medical industry
Compounds
Ceramics, glass and many others
The universal KT 150 cuts off carbide and HSS blanks as easily as it does hinges, guides, arbors, tungsten electrodes, glass cylinders, fiber glass tubes and much more. There are almost no limits to the use of the KT 150!
Precision guides and a high-precision grinding spindle guarantee a straight cut to the required length. The command lever has a "dead man" switch for maximum safety.
The 3 point clamping device clamps both sides of the work piece and prevents burs and chips. Special clamping devices are available for cutting to angles, small parts from Ø 0.5 mm on, clamping tool holders and many other work pieces which need cutting like Common Rail valves, collets, ejectors, etc.
Broken cutters and drills as well as work pieces with a shank Ø of up to 25 mm are cut off with the clamping device for round  materials.
Length measuring devices and stops are available either with manual stops or as electronic devices with digital display, linear guides and data exits.
For more information, please click on the respective picture.
Cutting range
Ø 3 – 30 mm (0,5 – 30 mm*) / flats 40 x 12 mm
*with corresponding accessories
Cutting wheel
Ø 150 mm (optional 200 mm)
Motor power
1,5 kW
Power supply
400V DS-50Hz
Colour
Light grey RAL 7035 / ruby red RAL 3003
Weight

about 60 kg / 90 kg with table
Dimensions L x W x H
about 750 x 650 x 600 / 1.600 mm with table
Here comes a Footerstring