UFT 370 Immersion Cut-off Machine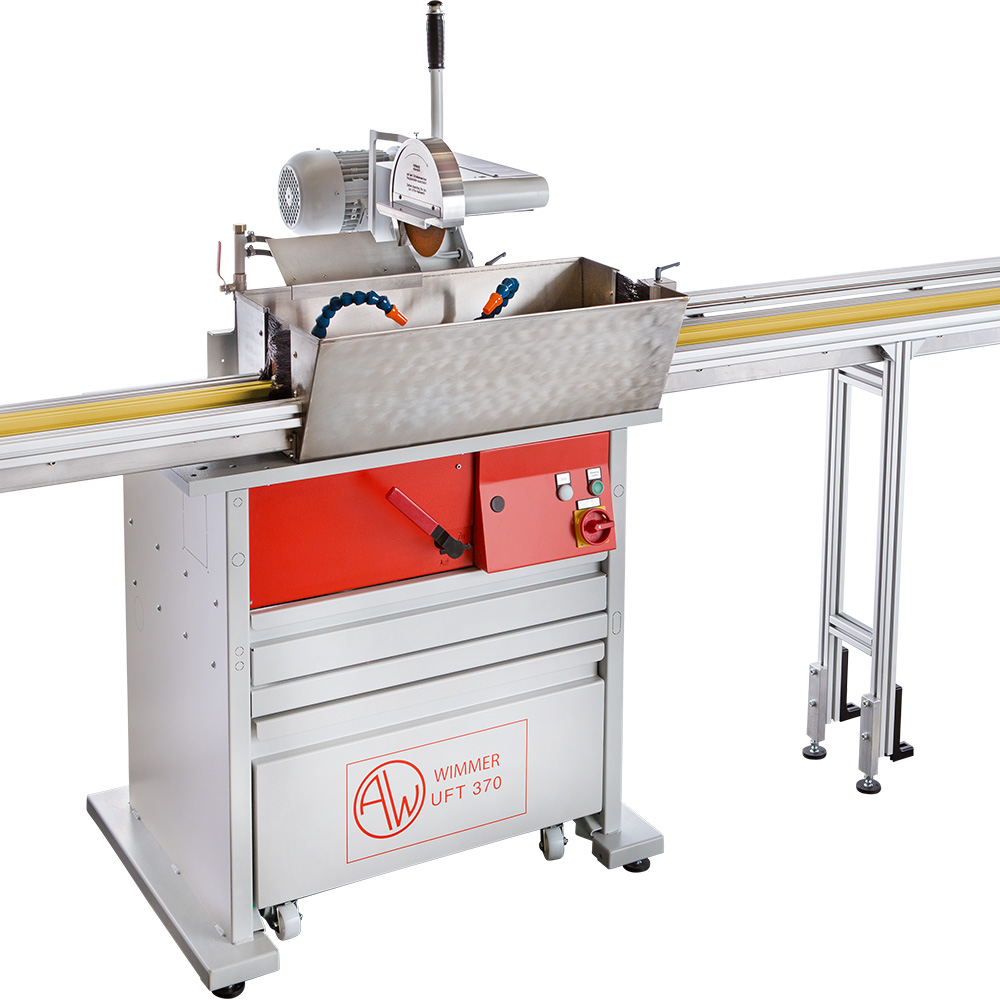 HIGHLIGHTS
Compact machine with stable base
Permanent cooling of both work piece and cut-off disc
Shorter grinding times for hard  materials
Long lifespan of the cut-off disc
Very high precision and excellent surface finish of the work piece
No additional operations (like deburring and facing etc.) necessary
No health-damaging fine powders in the air
Useful for
Cutting tool manufacturers and grinding services
Tool and die as well as machine tool industries
Material analysis
Quality control
Medical industry
Compounds
Ceramics and glass parts  and many other
When using the UFT 370, the work piece is always completely immersed which allows  maximum cooling of the grinding point through the disc rotation. Therefore the work piece and the disc have optimal cooling and rincing. The precision grinding spindle with high precision bearings results in a precise cut even after years of intensive use. The command lever has a safety device to ensure maximum safety.
The three-point clamping device holds the work piece on both sides of the disc, thus preventing burrs and chipping. Special clamping devices are available for planer blades, tangential form tools, segmented parts, common rail valves, tool holders and many other applications.
Broken cutters and drills are as easily cut off as carbide blanks, HSS knives, tempered guides, tungsten electrodes, ceramic balls, glass rods and fiberglass tubes. There are almost no limits to the use of the UFT 370!
The UFT 210b is an adaption allowing both cutting off and facing in one single operation. The axial displacement of 40 mm and the digital display make this machine ideal for the grinding of punches and pins, cutting dies and ejector pins in the tool and die industry.
For more information, please click on the respective picture.
| | |
| --- | --- |
| Cutting range | 50 mm (70 mm mit Ø 250 mm disc) |
| Cutting disc | Ø 200 / 250 mm |
| Motor power | 1,5 / 2,2 kW |
| Power supply | 400V DS-50Hz |
| Colour | light gray, RAL 7035 |
| Weight | ca. 300 kg |
| Dimensions L x W x H | 910 x 930 x 1.600 mm |
Here comes a Footerstring